The Farmer's Handshake Guarantee
More than anything, we want to be proud of the work we are doing. That means you need to be happy with what you bought. If you're not satisfied with your purchase, please contact us so we can make it right. You can talk to the same people who care for the cattle and pack the beef for shipping.
Premium Beef Patties
1 lb / pkg.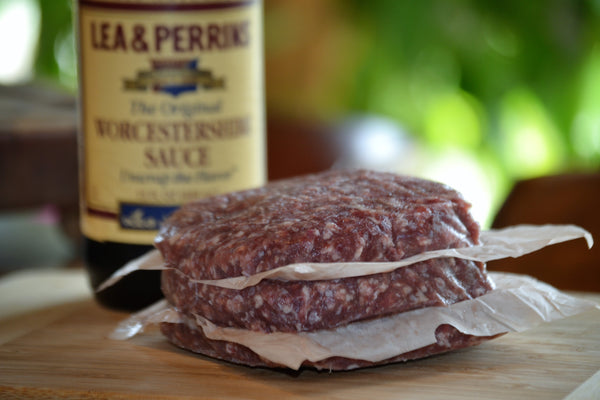 The same great flavor and quality as our ground beef with convenience and speed for those hurry-up dinners or summer grilling.
All Farmer's Provisions beef is dry-aged for incredible flavor, 100% grass-fed and regeneratively grazed.
1 lb packages contain 3 patties.
Free Shipping
Every order qualifies for free shipping. Our beef is shipped frozen on Tuesdays via overnight or two-day express shipping to ensure it arrives in perfect quality. The order cutoff time for Tuesday shipping is midnight Monday (i.e. orders placed on Tuesday
will ship the following Tuesday). When your order ships, we will email you tracking details so you can stay updated on your delivery.
High Quality Packaging
Cuts are individually packaged in vacuum-sealed shrink-wrap packaging to preserve quality and nutrition, and with a label on every package you'll know exactly what you're pulling out of the freezer. Our premium steaks (T-Bone, Filet Mignon, Ribeye, and NY Strip) are packaged in pairs (two steaks per shrink-wrapped package).
Environmentally Sustainable
It's very important to us that the packaging we use to ensure your beef arrives safely is as sustainable as the practices used to raised the beef.
Our beef is packed frozen into sturdy boxes lined with bio-degradable insulation made from cornstarch that you can dissolve safely in water and rinse down the drain. Of course the cardboard box and plastic insulation wrapper are fully recyclable as well.
All deliveries are packed with dry ice or drain safe, recyclable frozen gel packs to ensure your beef arrives in perfect quality.
The ribeyes are amazing and juicy, we're having them for dinner tonight. The ground beef was incredible we made homemade meatballs last week. Our family loved them. As a family we value eating the grass fed beef from your farm vs. grain fed beef that might not be as freely roaming as your cattle.
Greg
We made steaks that we had gotten at the store the same night that we made yours. The difference in quality was obvious as soon as we started cooking them. Thanks.
Jonathan
Brats were fantastic. Sirloin tip roast was amazing. My favorite so far. Beef Jerky is so good. Zero complaints.
Christina
I'm really picky about beef that I buy. When I get beef in the store, I only buy the best that I can find. Your ground beef was excellent, it smelled good when I was cooking it and I didn't even need to drain it. We had your short ribs too, they were delicious and fell off of the bone.
Julie
The beef jerky was seasoned perfectly.
Brad
The process was super easy, order was filled quickly and came well packed. Very happy with my purchase.
Dan
Beautiful medium steak with lots of flavor.
John
Filets were the best ever.
Karen
We made hamburgers with your ground beef last night. My husband and I both said they were the best
we have ever had.
Cindy
Four individual thumbs up on the jerky from kids and friends.
Dan
I highly recommend Farmers Provisions! The packing, and delivery, were both stellar, but it's the personal service as WELL as the beef that are wonderful! I'll definitely order again from them!
Julie
I ordered a Father's Day Bundle and I cooked 2 of the steaks tonight in my airfryer and they were delicious, tender and juicy.
Crystal
1st impressions are everything! I left my box of delicious meat in the back of my service truck in well heated shop for 24 hours before I remembered. So I can definitely vouch for the packaging! By the time I got there everything was still perfectly frozen. Excited to be thawing out a few pieces at home to cook soon!
Eric
So glad we found you. We had bone-in ribeyes. No seasoning added, delicious and tender. Best we've had.
Scott
Just had the short ribs two weeks ago. Outstanding. Also, ground beef was👍🏽I judge my ground beef based on a common breakfast I eat - ground beef with onions and peppers topped with two poached eggs. Beef was excellent.
Jason