Frequently Asked Questions
Where do you deliver?
We ship to 28 states: AL, AR, CT, DE, GA, IA, IL, IN, KY, KS, LA, MD, MI, MN, MO, MS, NC, NJ, NY, OH, OK, PA, RI, SC, TN, VA, WI, WV, and Wash. DC.
Do you offer local pickup?
Yes! Customers can choose to pickup their order at our farm in Middletown, IN at no charge. Just select the local pickup option at checkout. We'll send you an email when your order is ready for pickup.
How long does shipping take?
Our beef is shipped frozen on Tuesdays via overnight or two-day express shipping to ensure it arrives in perfect quality. The order cutoff time for Tuesday shipping is midnight Monday (i.e. orders placed on Tuesday will ship the following Tuesday). When your order ships, we will email you tracking details so you can stay updated on your delivery.
Where can I track my delivery?
When your order ships, you will receive an email with tracking details.
What is the order minimum for free shipping?
All meat orders qualify for free shipping. We have a minimum order amount of $50.
How do you ship your beef?
It's very important to us that the packaging we use to ensure your beef arrives safely is as sustainable as the practices used to raised the beef.
Our beef is packed frozen into sturdy boxes lined with bio-degradable insulation made from cornstarch that you can dissolve safely in water and rinse down the drain. Of course the cardboard box and plastic insulation wrapper are fully recyclable as well.
All deliveries are packed with dry ice or drain safe, recyclable frozen gel packs to ensure your beef arrives in perfect quality.
How is your beef packaged?
Cuts are individually packaged in vacuum-sealed shrink-wrap packaging to preserve quality and nutrition, and with a label on every package you'll know exactly what you're pulling out of the freezer. Our premium steaks (T-Bone, Filet Mignon, Ribeye, and NY Strip) are packaged in pairs (two steaks per shrink-wrapped package).
What if my order is delayed?
We take great pride in having our products arrive to your doorstep in perfection condition.
Please open and inspect your packages as soon after delivery as possible. If the meat is partially frozen or cold to the touch (like it's been in a refrigerator at or below 40 degrees Fahrenheit), it is safe to eat per the USDA.
If you are concerned about the safety of your product, please do not hesitate to reach out and our customer support team will be happy to help you! Remember, every order is backed by our Farmer's Handshake Guarantee.
What if I'm not home when my package arrives?
No signature is required for delivery. Your beef will be shipped frozen on dry ice on Tuesday to ensure it arrives in perfect quality. Tuesday shipping ensures delivery before the weekend when families are more likely to be away.
What does "grass-fed" mean?
We believe cattle were created to convert sunlight, rain, soil, and plants into healthy protein, vitamins, and minerals. Accordingly, our cattle eat ONLY a healthy mix of grasses, legumes, and brassicas and are NEVER fed grain or grain by-products. They are 100% grass-fed and grass-finished in a regenerative farming system.
Is your beef "grass-finished"?
Yes. Our cattle eat ONLY a healthy mix of grasses, legumes, and brassicas and are NEVER fed grain or grain by-products. They are 100% grass-fed and grass-finished in a regenerative farming system.
Why do you dry-age the beef?
Dry-aged beef tastes better and is more tender. Supermarket beef is rarely dry-aged. Dry aging removes excess moisture from the meat, which concentrates the beef flavor and increases the tenderness of the meat. When you purchase dry-aged beef, you're not paying extra for the water weight found in conventional beef.
Are there any additives in your beef?
Our beef is a 100% natural product. There are zero additives.
Do you give your cattle growth hormones?
No. Our cattle are never administered growth hormones.
Where is your beef processed? Is it USDA inspected?
Our beef is processed by a local Indiana family-owned USDA-inspected facility.
What breed of cattle do you raise?
Our herd is Red Angus based. You can see photos on the website of our cattle and the pastures we raise them on.
Why buy beef in bulk?
Bulk beef is an affordable way to stock your family's freezer for year-round nutritious meals. The larger the bundle, the greater you save!
How much beef does my family need?
Your family's beef needs may range from a 1/8 Beef up to a whole beef (or more), depending upon household size and how often you eat beef. Use our chart below to help estimate your family's needs.
How much freezer space do I need?
A typical kitchen freezer is approximately 5-6 cubic feet (less if you have an ice maker). Freezer space requirements range from 2 to 14 cubic feet, depending upon the size of the bundle:
For ¼ Beef Bundles or ½ Beef Bundles, we recommend getting a deep freezer to store your beef.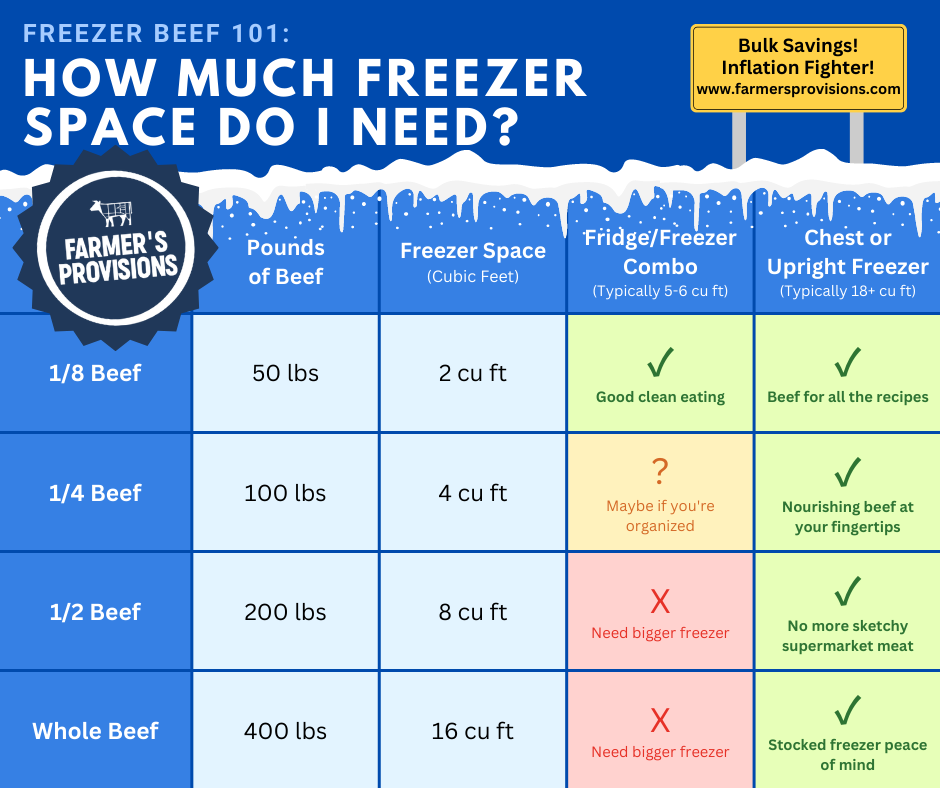 Can I buy a whole beef?